Roma
Prepara tu escapa a Roma, la ciudad eterna, descubre lo que no debes perderte y cuales son los mejores hoteles gay de Roma.
Get ready for your visit to Rome, discover the places you must visit and the best gay friendly hotels to stay in Rome.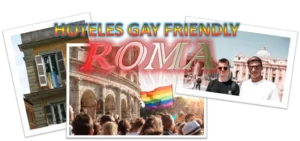 Aunque la sociedad y la cultura de Roma son conservadoras en general, la ciudad ha avanzado en los últimos años en cuanto a la inclusión de la comunidad LGBT+ y se considera cada vez más un destino gay friendly.
Cuenta con algunos bares y clubes gay y la vida nocturna gay se concentra en los barrios de San Lorenzo y Testaccio, donde se pueden encontrar algunos locales y eventos dirigidos a la comunidad LGBT+. Además, la ciudad celebra anualmente el evento del Roma Pride, que tiene lugar en junio y es uno de los mayores eventos LGBT+ de Italia.