Madrid
Hoteles gay friendly en Madrid. Encuentra los mejores hoteles, hostales y alojamientos LGBTQ. Look for the best gay hotels and hostels in Madrid in our blog.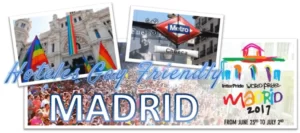 Madrid es considerada una ciudad muy amigable para la comunidad LGBT+. La capital española tiene una larga historia de apoyo a los derechos de los homosexuales y es conocida por su actitud abierta y tolerante hacia la diversidad sexual.
Tiene un barrio gay conocido como Chueca, que es muy popular entre la comunidad LGBT+. Este barrio está lleno de bares, restaurantes, tiendas y discotecas dirigidas al público gay y también cuenta con una gran cantidad de eventos LGBT+ durante todo el año, como el famoso Orgullo de Madrid, que es uno de los más grandes y animados de Europa.
Encuentra todos nuestros post sobre este destino y sus hoteles gay friendly aquí debajo.